BFS Open night – Torchwood Discussion and Signing / Sam Stone book launch
The British Fantasy Society and BBC Books are pleased to announce that on the 3rd July they will be hosting a free Torchwood event at The George pub on London's historic Fleet Street, a short walk from Temple Tube Station.




















Authors of the latest Torchwood novels from BBC Books, Mark Morris, Sarah Pinborough and Guy Adams are joined by scriptwriter Joe Lidster in an informal panel discussion hosted by Andrew Cartmel, fellow Torchwood author for BBC Books and onetime script editor of Doctor Who.


The discussion will last approximately one hour and will be followed by an opportunity for people to buy books and have them signed by those attending.
 
The event will start at 19.30 and is free to attend but please note that space is limited.
Mark Morris is the author of 17 highly acclaimed novels and numerous short stories. In 2006 he compiled and edited the award-winning Cinema Macabre, a collection of essays on horror films by some of the brightest names in horror fiction. In the world of Doctor Who he has written four novels featuring the fifth, eighth and tenth doctors (winning the top slot for most popular Doctor Who novel the last two years running as voted for by the readers of Doctor Who Magazine). He has also written scripts for Big Finish's range of Doctor Who audio dramas. Bay of the Dead is his first novel for the Torchwood range.
Sarah Pinborough is the British author of five horror novels and her sixth, Feeding Ground, is due out from Leisure books in October 2009. Her short stories have appeared in several anthologies and she is currently working on A Matter of Blood, the first of a supernatural thriller trilogy for Gollancz, which will be in all good UK book shops in 2010. Sarah has twice been short-listed for the British Fantasy Award for Best Novel and when she's not writing she can normally be found laughing with friends and drinking wine, probably with a cat in her lap. Into the Silence is her first Torchwood novel.
Guy Adams trained as an actor before accidentally becoming an writer instead.  He is the author of far too many books about Life On Mars, including the best-selling spoof police manual "Rules of Modern Policing". When not pretending to be DCI Gene Hunt he pretends to be John Watson MD, working alongside the estate of Sir Arthur Conan Doyle to write a facsimile scrapbook of his time flat sharing with Sherlock Holmes. The result has been published by Carlton Books to celebrate the 150th anniversary of Doyle's birth.  He is currently working on two original novels due to be published next year that he really wishes he could talk about but can't. The House that Jack Built is his first Torchwood novel.
Joe Lidster has worked extensively for audio production company Big Finish, writing scripts for a variety of their ranges including Doctor Who, Sapphire & Steel and The Tomorrow People. In 2008 he made his TV debut with "A Day in the Death" an episode in the second series of Torchwood. He also wrote "The Mark of the Beserker" for the second series of The Sarah Jane Adventures and "Lost Souls" a Torchwood drama for BBC Radio 4 that celebrated the switching on of CERN's Large Hadron Collider.
Andrew Cartmel is a television writer, novelist and playwright. He worked for BBC television for three years as script editor of the popular cult series Doctor Who. He became senior script editor on Casualty and was subsequently head writer and script editor on Dark Knight, for Channel Five. His stage plays, produced on the London fringe, include End of the Night and Under the Eagle, hailed by Time Out London as 'bitingly funny'. His novels include Warlock and The Wise (Virgin Books) Atom Bomb Blues (BBC) and, most recently, Miss Freedom (Powys).
Also FUTILE FLAME – Book Launch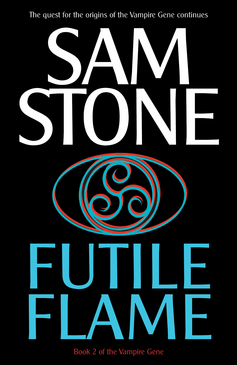 The quest for the origin of the Vampire Gene continues …
Gabriele searches out Lucrezia, who reveals to him the horrors of her teenage years in the house of the Borgias in the sixteenth century, and the possessive obsession of her brother Caesare who cannot accept that his love for her is unrequited. Her transformation as a vampire gives her freedom to escape for a short time, but leads to the terrifying world of the Allucians; throwing her back into the arms of her now much stronger and powerful brother, two centuries later.
Gabriele discovers that Lucrezia is just as much a victim of her past as he is.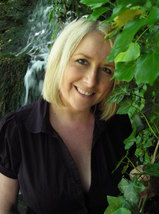 Author and poet Sam Stone's first novel, Gabriele Caccini – The Vampire Gene Book 1 (as Paigan Stone), was the fulfillment of a lifelong dream. Like all good authors she drew on her own knowledge and passions to write it. The novel won ForeWord Magazine's silver award for BEST HORROR NOVEL 2007. In September 2008 Gabriele Caccini was re-edited and republished by The House of Murky Depths as Killing Kiss. She has recently sold a couple of short stories and is working on a film treatment for Killing Kiss as well as a new urban fantasy series for young adults.